Reducing crime through high security windows

Security for the home is high on the agenda of most property buyers today and secure windows are a legally required on new properties to meet Part Q Building Regulations. Salisbury Joinery supplies a range of windows tested to the latest PAS24:2016 standard, making them an ideal choice for protecting any property.
Our PAS24 Windows Range
Our PAS24 range includes timber Box Sash Windows and Casement Windows, with a reinforced construction, toughened glazing and upgraded window ironmongery. These windows have passed rigorous third-party tests to ensure they are protected against forced entry methods.
Features include:
• Choice of attractive designs
• Bespoke sizes, mouldings and finishes
• Weather performance tested
• Energy efficient double-glazing
• Large sash sizes - up to 1400 x 2200mm
• 10 Year Product Warranty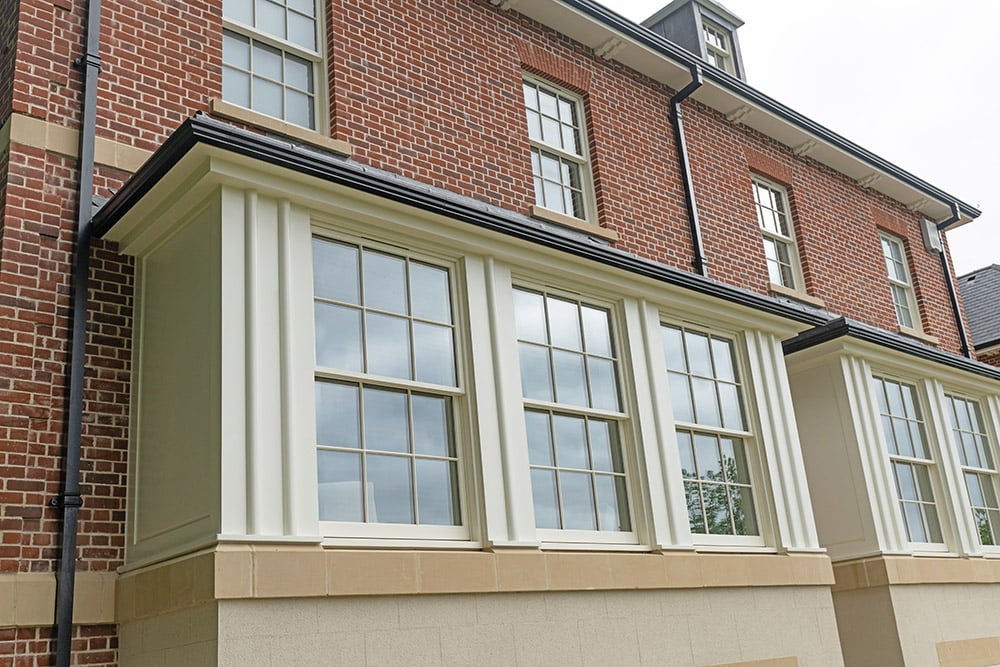 PAS24 Sash Windows
Our sash windows are manufactured with a fully certified test certificate up to 1400 x 2200mm, one of the largest available from any manufacturer. With a reinforced construction featuring anti-rattle meeting stiles and security enhanced fasteners, sash stops and top rail chimney blocks, they provide a secure solution for many character homes. The toughened 24mm double glazing provides a high level of energy efficiency too. PAS24 sash windows are available with traditional weights and cord operation or as sprung balance windows which are popular in new builds. Read more in our blog.

PAS24 Conservation Sash Windows
This version of our PAS24 range comes within slimline double glazing making it the perfect choice for properties in conservation areas that could also benefit from higher levels of security. The toughened 4-6-4mm glazing provides the outwards appearance of single glazing but with much better energy efficiency. As these units are fully certified to the PAS24 standard they are also suitable for new properties built in a traditional style. With a reinforced construction featuring anti-rattle meeting stiles and security enhanced ironmongery they provide the same level of protection as our standard PAS24 Sash window.

PAS24 Casement Windows
Our high-performance casement windows are manufactured to the PAS24 standard and feature reinforced casements, high security espagnolette locks and toughened glazing. The 24mm double glazing provides a high level of energy efficiency with a U-value of 1.2, along with high acoustic insulation and proven weather performance. Our PAS casement windows are a popular choice for new character properties and properties undergoing a change of use.

What is PAS24?
PAS24 is a British security test standard which measures the resistance of windows and doors to series of attack methods typically used by opportunist burglars to force entry into a property. PAS24 was developed in collaboration with a number of organisations including the Association of Chief Police Officers, BRE and British Woodworking Federation.
Windows and doors tested to PAS24 provide the assurance that they provide the minimum qualifying level of protection. The certification also ensures that the manufacturing process is consistently meeting standards.
Manufacturers must submit their products to an independent test company certified by the United Kingdom Accreditation Service (UKAS) for testing and since PAS 24 is a minimum standard, a window or door will either fail or pass and receive the accreditation.
Are PAS24 Windows a legal requirement?
Under building regulations, it is legal requirement to fit windows and doors that meet the PAS24 or equivalent standard to new properties or properties that have been repurposed for residential use.
What is Approved Document Q?
Approved document Q – Security of Dwellings took effect in October 2015, supporting the existing Schedule 1 to building regulations.
Building Regulations now require that all new build properties can "resist unauthorised access to any dwelling; and any part of a building from which access can be gained to a flat within the building."
To meet the regulations windows and door must be manufactured to PAS24 or a equivalent security standard such as LPS1175, SR2. Salisbury Joinery is delighted to have a range of windows and doors tested to PAS24 in compliance with Part Q.
How are PAS24 Windows Tested?
Windows have to pass a series of stringent tests designed to simulate the most common forced entry methods. These tests last several minutes are performed by independent examiners who identify any weakness. Tests include;
Mechanical Loading - to assess whether the sample can withstand loading at different angles without creating an entry
Manual attack - to assess the windows resistance using a set prescribed tools such as cutting, prising, removal of infill medium.
Window and hardware manipulation –to test there is no design vulnerability in the locking system.
Weather resistance - Our PAS24 windows are also tested to the BS6375-1 / EN14351-1 weather performance standard, ensuring the units are water tight and wind resistant.
Are Timber Windows Secure?
Timber windows that meet the PAS24 standard are just as secure as PAS24 certified windows made from other materials. The rigorous third-party testing proves that the design and construction stands up to different forms of attack.
Our PAS24 sash windows and casement windows are of a re-enforced design, with toughened security glazing and multi-point espagnolette locking systems. All of this goes to provide the reassurance homeowners need that there property is well protected.