5 min read
Large PAS24 Sash Windows Fully Certified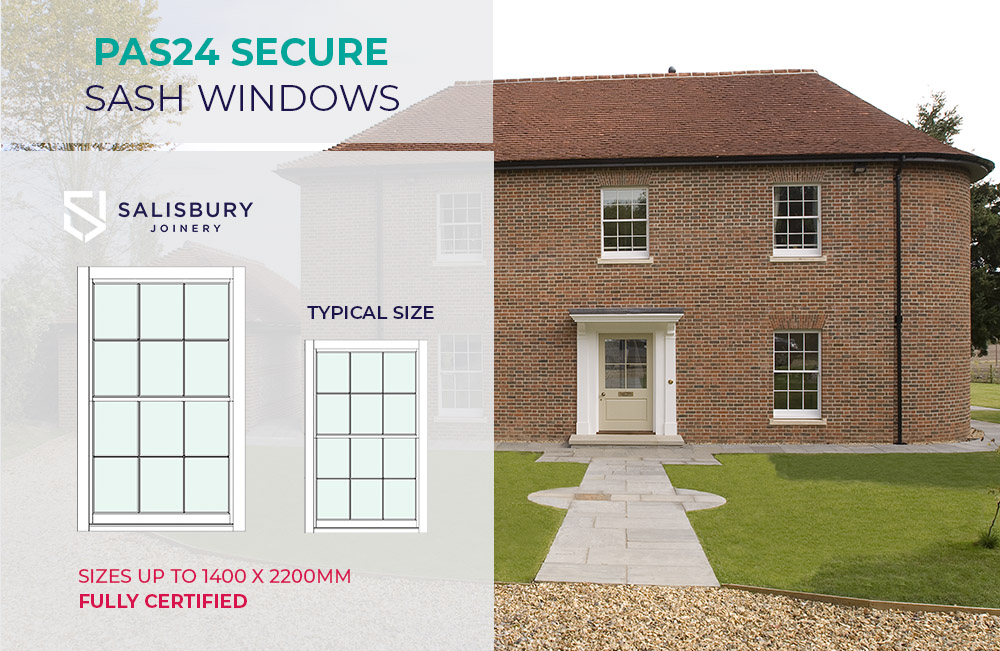 Following stringent independent tests, Salisbury Joinery, is believed to offer the largest PAS24:2016 certified timber Sash Window on the market.
With windows certified to a massive 1400 x 2200mm - much larger than a typically sized sash window, this major feat of engineering will help architects and builders meet Part Q (security) building regulations, which state that new residential properties must be fitted with windows and doors successfully tested to the PAS24 standard.
Unlike many other companies, whose products are simply manufactured to an approved specification or using approved components, our Sash Windows have been independently tested to PAS24:2016, meaning they have been assessed to the latest standard. Sash windows from our high-performance range come fully certified when manufactured in any size up to 1.4 x 2.2m (width x height).
Until now options for architects and builders were limited because many manufacturers only supply PAS24 windows up to a limited size; often with larger windows being made to the same design but not certified.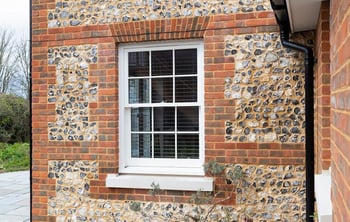 Key benefits include:
• Wide range of sizes certified to PAS24:2016
• High security without compromising looks
• Bespoke designs available
• Traditional or spring balance operation
• Tested to latest weather performance standards
• Highly energy-efficient / heat saving
What is the specification of our PAS24 window?
Our PAS24 windows have a re-enforced construction with a thicker single component meeting rail, anti-rattle meeting stiles and high security fasteners. Double glazing is toughened and highly energy efficient with a centre pane U-value of only 1.2. Windows can be manufactured with traditional weights and cords or with modern spring balance operation suited to many new builds. The design can be further tailored to suit a range of properties styles with bespoke mouldings, glazing bars and paint finishing options.
How are PAS24 windows tested?
Windows have to pass a series of physical tests lasting several minutes to test any potential weakness to attack. Once fixed to a test rig, the tests are run by expert independent examiners working for an approved third-party who assess the windows capacity to repel forced entry. These tests include:
Mechanical loading -

to assess whether the sample can withstand a specified sequence of loading at different angles without creating an entry.
Manual and mechanical attack – to test the window's resistance to attack using a set of prescribed tools, such as cutting, prising and removal of beads, security devices and infill medium.
Window and hardware manipulation
–
to test there is no design vulnerability
which might allow entry by the locking system being operated, unfastened or disengaged from the outside.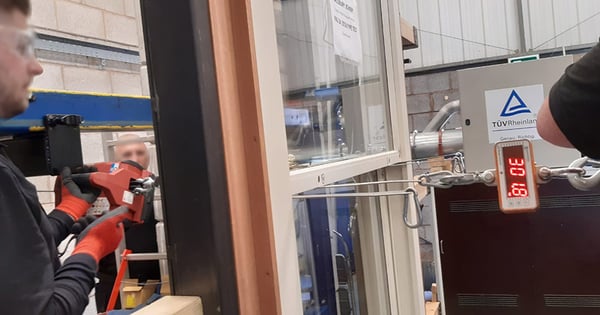 Pic. above shows our box sash window on the test rig

.
What weather performance do the windows have?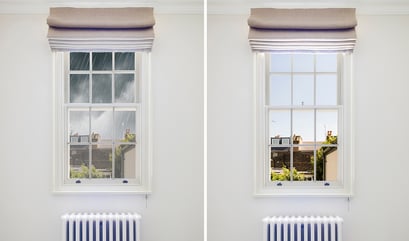 Having previously been tested and certified to the latest weather performance standards EN14351-1 and BS6375-1, our sash windows offer the dual benefits of high security, energy-efficiency and all-weather performance in an attractive design, matching the benefits valued by savvy homeowners. Certification to the latest weather performance standards means the windows are proven to be resistant to storm force winds, gales and driving rain.
What is PAS24?
PAS24:2016 is a minimum British security standard which tests the resistance of windows and doors to series of attack methods typically used by opportunist burglars to force entry into a property. These stringent tests are carried out by a UKAS accredited third party who assess the products performance to the standard. PAS24:2016 is recognised by Secured by Design which is the UK Police initiative to reduce burglary and crime.
Do replacement windows need to be PAS24?
Replacement windows and doors on existing properties do not currently have to meet PAS24 standards, however, many customers are choosing them since our design provides improved security with little to no impact on aesthetics.
What kind of locking comes with PAS24 sash windows?
Windows are fitted with security reinforced hook fasteners, sash stops and top rail chimney blocks. All ironmongery has been tested to the required standard.
Do UPVC windows have a higher security rating than timber windows?
No, all products have to undergo the same stringent test procedures to gain certification. The difference is that timber windows are more attractive, authentic to period styles and have higher thermal insulation properties.
What glazing is fitted to your PAS24 Sash Window?
24mm (4-16-4) toughened glass meeting the requirements of BS EN356:2000, fitted with an external timber bead.
How energy efficient are PAS24 Sash Windows?
Our windows are fitted with 4-16-4 soft coat argon gas-filled units with a U value as low as 1.2, making them one of the most energy efficient around.
Is PAS24:2016 the same as PAS24:2012?
No, PAS24:2016 was launched in March 2016 replacing PAS24:2012, which was withdrawn by BSI. At Salisbury Joinery our windows and doors are tested to the latest standards.
Further Information
Details on our PAS24 sash window range can be found in our Product Range Guide or Specification Pack for Architects. For more information on pertaining to Part Q Building Regulations click here.