The effects of recent storms and severe weather in the UK makes you wonder whether our homes are adequately protected from the wind and rain. As part of its continuous improvement plan, however, Salisbury Joinery, has invested in the design and weather testing of its sash windows to give builders, developers and property owners the confidence and reassurance that the they perform in all types of weather and have the strength to last.
Newly Certified Weather Protection
As a result of this investment we are delighted to announce our box sash windows have passed stringent weather performance standards and are now certified to European and British standards EN14351-1 and BS6375-1, giving customers the reassurance they can rely on them all year-round.
The windows were independently tested by specialists, ERC Testing Ltd in conjunction with TÜV Rheinland Nederland B.V, a division of one of the largest certification and test bodies in the world.
Stringent Test Programme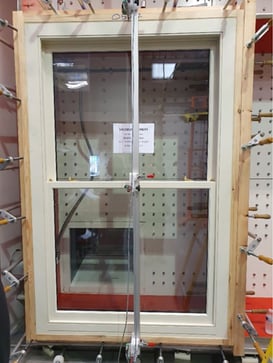 Following a sustained and rigorous physical test programme lasting over 2 hours, the sash windows achieved the required standard for resistance to wind load, air permeability and water tightness. The tests involved the windows being bolted to a professional test rig, with performance measured across the whole of the window construction through highly accurate computer monitoring.
The sash windows passed the Resistance to Wind Load test (EN12210) to a value of 1200Pa (Pascals) Class C3. Water Tightness (EN12208) was achieved to a value of 300Pa Class 7A and Air Permeability (EN12207) met the required standard of 300pa, Class 2. This means the windows are proven to be resistant to the storm force winds, gales and rain often experienced during the British winter.
Pic. to right, our box sash window sample on the test rig.

To further ensure the windows resist anything the UK climate can throw at them, dense woods such as Accoya, a unique modified timber, are used in their construction. Accoya uses cutting-edge technology to resist rot, prevent water ingression and avoid the cracking associated with changes in weather temperature and humidity. Its remarkable performance properties are ideally suited to use on external windows and doors.
Our certification permits the use of timbers with density of over 510kg/M³, such as Accoya, Sepele and European Oak.
Choice of Window Specification
Windows up to 1400 x 2200 mm are certified with standard cavity double glazing, fitted with timber beads or face puttied. Both our traditional box sash windows, operating through weights and pulleys, as well as our spring-balance sash windows are covered.
Traditional timber sash windows are suited to heritage and conservation properties and use cords, weights and pulleys to counterbalance the sashes with the weights discreetly hidden in the boxes on either side. Spring-balance sash windows on the other hand, offer a modern alternative to the weights-based system that feature spring-loaded mechanisms on each side of the sashes. They have the advantage of a smaller rebate and boxes are not required, so they are particularly suited to properties free of conservation constraints but where a stylish traditional appearance is desired.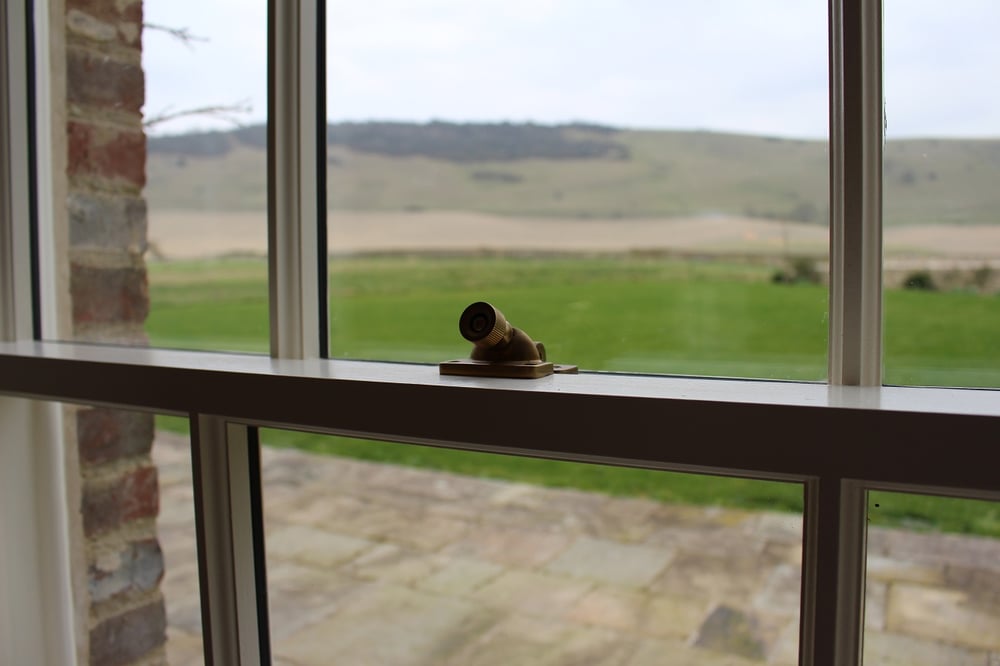 Advantages of Salisbury Joinery Sash Windows
The design of our Sash Windows and their proven weather performance offers the potential of a longer product lifespan and reduced maintenance for properties owners. The certification document for this product is available now to download.
Salisbury Joinery has hand-crafted bespoke sash windows for period homes and new developments for over 40 years, so has the experience to provide the right advice. Working with local builders and developers across the South, the company has built an enviable reputation for the quality of its workmanship and responsiveness of its service. So, when you next require sash windows, don't be blown off course, choose Salisbury Joinery!