4 min read
Opening Up Living Areas in Style with French Doors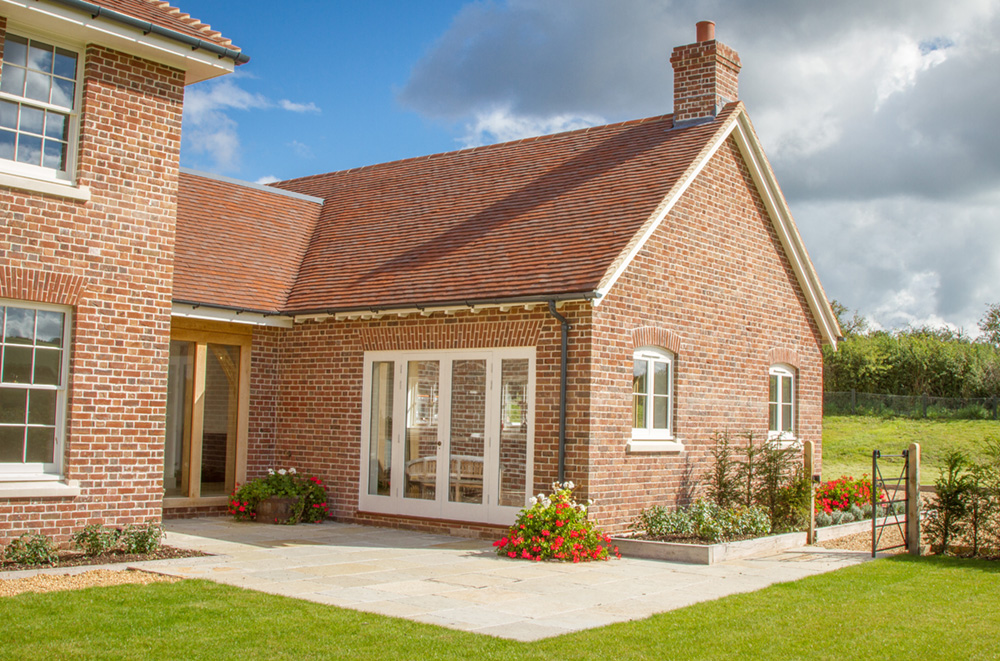 French doors are defined as a pair of doors with glass panes extending for most their length. In the UK they are often referred to as 'French Windows' due to their country of origin and functionality; acting like windows large enough for you to walk through.
Typically, they are installed as a pair of doors which are hinged to opposite sizes of a door frame and meet in the middle to form a barrier. On modern homes they are popular when installed with sidelights (fixed glazed panels) on either side.
When they are opened up, French doors provide full access to the width of the opening in which they have been installed. Usually French Doors are fitted to external walls providing direct access to a garden, patio or terrace, but they are sometimes hung internally to divide rooms into functional spaces, such as from a entrance hall to a lounge or conservatory.
Why are they called French Doors?
French doors originated in France as windows you could open and walk through like a door - In France they're called portes-fenêtres which means 'door-sized windows'.
The original idea of French doors can be traced back to the French Renaissance period of the 16th and 17th century. Architecture of the period gave great importance to proportion, symmetry, geometry and regularity and it became fashionable to open up internal space.
What we now refer to as French doors replaced small casement openings to balconies allowing more light to enter the room - a very important feature since the absence of electricity made the lighting of internal rooms much more challenging than it is today! Residents of these properties could now directly access fresh air from their balconies and glazed French doors soon replaced wooden doors between adjoining rooms.
Applications for French Doors
Usually French doors are externally fixed and allow direct access to the garden from a living room, dining area or kitchen. The doors are usually hinged to swing open outwards which maximises the use of internal space. Internal rooms that adjoin each other also feature glazed doors as a means to separate off functional areas, whilst retaining natural light.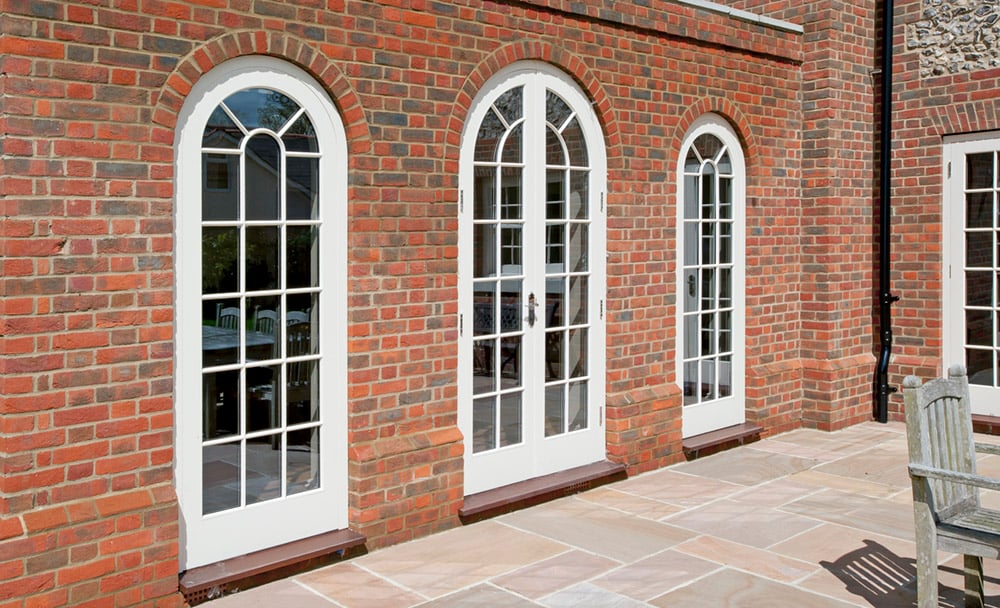 Why choose Timber French Doors?
There are many reasons why property owners choose wooden French doors including;
Aesthetics – Wooden French doors, with their mouldings and intricate glazed panels, are considered more elegant, characterful and visually appealing than modern UPVC patio doors.
Authentic Design – Bespoke French doors can be designed to perfectly match the period style of traditional homes, ensuring they complement their settings. Where the building is listed or in a conservation area, planning authorities may require heritage windows and doors to retain the appearance and style of the original construction.
Easily Access - A key advantage of French doors is that when open you have unrestricted access to the entire width of the opening, whereas traditional patio doors slide along a track and open to just one side. This makes French Doors a good choice if you need easy access, for example, to move bulky furniture. Where the aperture is particularly wide, the doors can be complemented with fixed side panels of the same design.
Ventilation - French doors can provide a beautiful seamless transition from internal rooms to outside spaces and allow the maximum light and ventilation on a summer's day. Depending on the room size, trickle vents can be installed in the header of doors or windows to allow air flow at other times.
Versatility - French doors give you the option to open one or both doors, depending on weather conditions. For ease of use, the master or leading door is configured with the handle and lock, with the slave or secondary door often bolted into position perhaps with a fixed matching handle or with its own espagnolette.
Energy Efficiency - Timber French doors typically have wider frames than UPVC sliding doors. When combined with smaller glass panes typical in French door design, this can help energy efficiency and thermal performance.
How secure are French Doors?
When configured with latest locking mechanisms and properly installed, French doors can be perfectly secure. Any exterior French door should be fitted with an espagnolette multi-point lock, similar to that found of front doors. Home owners might consider upgrading old doors or locks if they are concerned that they are not adequately protected.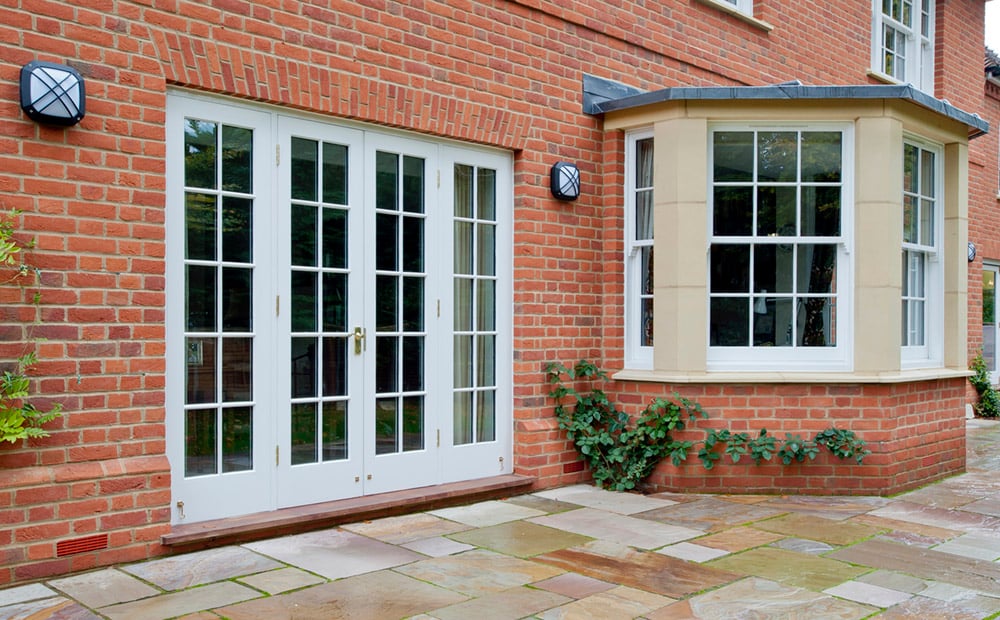 Different configurations of French Doors
French doors and sidelights (screens with fixed panes) can be manufactured to a wide range of designs, timbers and a choice of finishing options to suit traditional or contemporary homes. Along with many different glazing options, stylish mouldings and sidelights, can be tailored to meet customer requirements and to comply with building regulations.
Door Sizes - Whilst there are standard sized doors to fit typical door openings, such as 120cm, 150cm,180cm, Salisbury Joinery can manufacture custom sizes for a perfect fit. We will also sculpture the door shape, for example, to fit an archway.
Timber / Finishing- A choice of timber can be used in the construction, however for external doors, hardwoods such as Oak, Sapele or Accoya is best advised for strength and durability. Internal glazed doors can be built with a choice of soft or hard woods and glazing options. Doors are supplied either fully finished or white primed for painting on site.
Security – A multi-point locking espagnolette system is best specified on French doors to maximise security and comply with Part Q building regulations (security of new doors). Ironmongery can be configured to suit the desired operation of the door and a choice of styles and finishes are available to complement the design.
Energy-efficiency – Doors can be fitted with a choice of thermal-efficient double-glazed units and weather strips to maximise energy-efficiency. Trickle vents in the header can be specified to allow internal room ventilation and temperature control.
Salisbury Joinery French Doors
As experienced manufacturers of solid timber framed French doors, we understand the requirements and potential of different types of project. Our specialist joinery expertise has been greatly utilised through the supply of French doors for listed buildings, conservation and period properties throughout London and Southern England.
We construct French doors to blend seamlessly with the client's property, adding quality and value. Our wooden French doors are traditional in appearance but incorporate modern glazing, insulation and locking solutions to ensure excellent performance characteristics and security all year round.
For further information, view our case studies or call our sales advisors on 01722 337040