5 min read
Exploring Edwardian Window & Door Design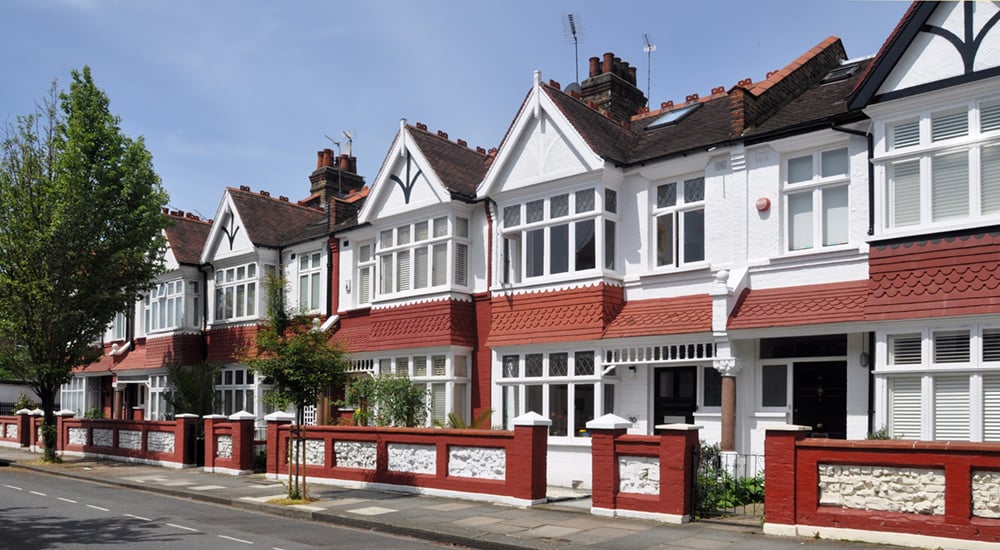 Edwardian windows and doors belong to the Edwardian architectural era that was prevalent during the nine-year reign of King Edward VII (1901 to 1910) and the immediate interwar period. It is generally accepted this style of architecture remained in vogue until the early 1920's, ten years after the death of Edward VII.
Compared to the Victorian period this era was short lived, however it coincided with a housing boom driven by a rapidly growing population and improved transportation. New railways lines allowed the middle classes to live a commutable distance from work and gave rise to the suburbs, especially in London and home counties.
By moving to the suburbs, the Edwardians were able to build their homes on large leafy plots set back from the road, with larger rooms, double aspect living areas, large impressive hallways and spacious gardens.
Edwardian Home Design
Unlike the Victorians or Georgians before them, the Edwardian's had less need for servant's quarters, so second floors and basements were dispensed with, allowing space for larger rooms and bright airy interiors. The transition from oil and gas lamps to electric lighting also allowed lighter pastel coloured walls and simpler, less cluttered interiors.
Architects of the period, such as Edwin Lutyens, were influenced by traditional architecture, the arts and crafts movement and appreciation of hand-made craftsmanship over the mass production typical of the Victorian age. Features from previous eras where imaginatively adapted into house designs, such as the symmetry of the Georgian Palladian style and the high ceilings of the Victorian period. Mock-Tudor styles were popular for country estates featuring part timbered exteriors to make the house appear older.
Edwardian homes covered a range of styles but were less ornate than their Victorian equivalents with an overall feeling of lightness and space. Externally homes are characterized by their wide appearance with steep pitched roofs often with gable ends and chimneys situated half way down the slope of the roof to sit directly above the fire place.
Properties were usually built in parallel to others in the street. Glazed front doors with porches, balconies and large windows are also easily identifiable features of a typical Edwardian home.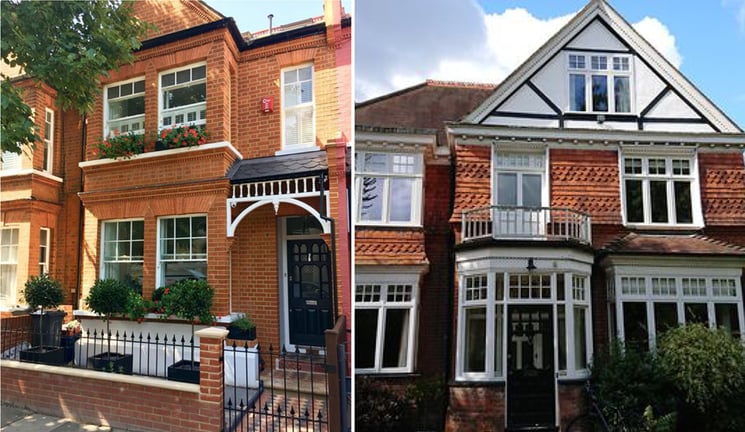 Edwardian Windows
Edwardian windows were designed with the same principles as the rest of Edwardian buildings, with an emphasis on style and elegance using simple forms alongside more intricate detailing.
Edwardian Sash Windows work through the traditional system of weights and pulleys usually with the top sash being fixed and the bottom sliding. Designed to provide an aesthetically appealing rustic look, the top sash is of decorative design with multiple glass panes, contrasting with a bottom sash of one or two panes providing a clear view and plenty of light. The attention to detail continues with slimline mullions, run through sash horns, a deep bottom rail and ornate stays.
By the early 1900's casement windows, hinged to the side, were becoming more popular with openings along the top filled with plain or coloured glass in a range of floral patterns.
A change in the building act of 1894 meant windows of the late Victorian and Edwardian period no longer had to be flush with the exterior wall. Designers took advantage of this by presenting windows in bays proud of the building façade. Many medium to large sized homes where designed with bay or bow windows, which maximised space and improved internal light and ventilation. Another benefit was large internal window sills which could serve as comfortable occasional seating. Edwardian Bay windows are large and normally supported by brick or wooden external supports painted in white.
Stained glass windows which were popularised in the Victorian era, remained in vogue but designs used brighter colours and pastel shades in preference to black and brown. Colourful motifs featuring gardens and flowers in yellow, blue or leafy shades of green were popularised and featured in glazed doors and porch windows.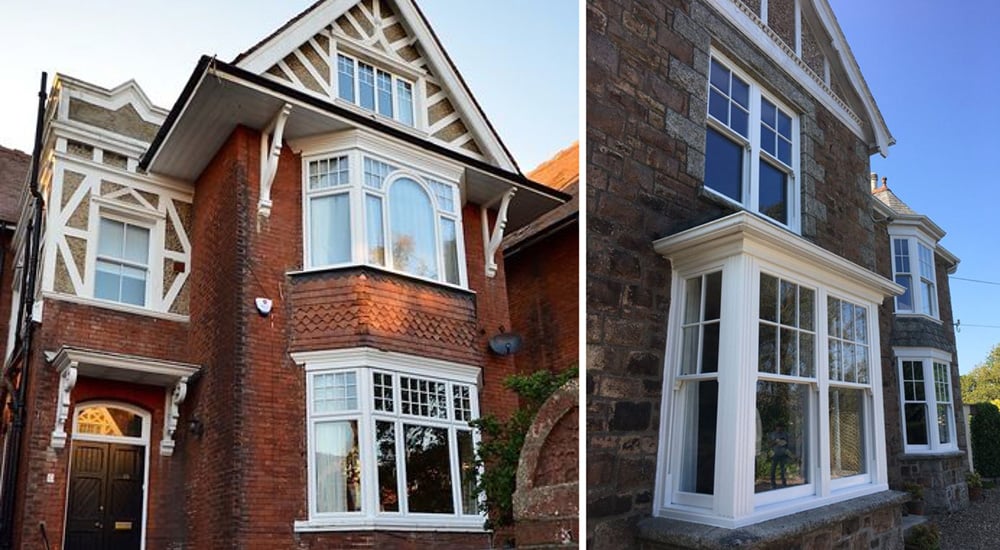 Edwardian Front Doors
Edwardian entrance doors were very important as they conveyed the wealth and status of the household. The doors, therefore, were often large and imposing to create the right impression to visitors and passers-by. Edwardian doors were constructed from panels, which often had raised mouldings around the edge to make them appear deeper, and were painted in a range of colours, such as popular shades of green and blue, or in contrasting colours to add effect.
The top half of the door would be glazed in a range of styles often featuring stained glass in an Art Nouveau or Neo-Georgian design. Many doors featured an overhead fan light and side lights typically in a neo-Georgian style but decorated with ornate iron works. The period saw a rise in popularity of multiple stained-glass panels, inspired by Gothic Revival and the Arts and Crafts movement. As well as being beautiful in appearance, the panels allowed light into the hallway but with the additional benefit of privacy.
Doors were decorated in beautiful glazed panel designs with floral patterns, medieval themes and designs influenced by the work of William Morris. Art Nouveau, still popular in the 1910's inspired curved shapes in the form of sinuous plants and flowers which were well suited to stained-glass design.
Iron and brass continued to be a popular choice for door ironmongery such as door knobs, knockers, locks and hinges. Various designs helped to decorate the door with a stylish finish, along with brass door numbers or numbers engraved into the overhead glazed panel.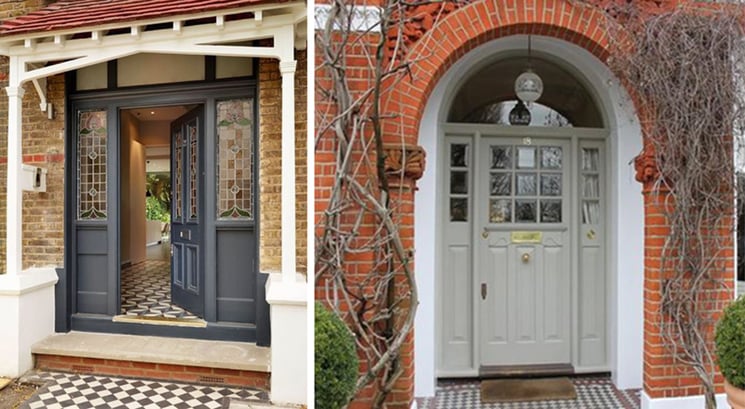 Edwardian Porches
Porches and balconies, often with timber railings and fretwork patterns, are an important and distinctive feature of Edwardian properties. Typically, porches would extend out from the house around the front doors with a roof, supported by a wooden framework, console brackets or a combination of both.
On modest terraced homes, below windows on the first floor, a short sloping roof was built extending across the front of the house, forming a porch above the door. Other porches were constructed along the same plane as the external wall with the front door recessed within the property. Tiles were a favourite feature both in the hallway and leading up to the doorstep.
Edwardian Internal Doors
Internal doors were typically 3 or 4 paneled doors with simple symmetrical designs befitting the light, spacious interiors of the era. Many doors contained clear glazed panels or stained glass to compliment the floor tiling, walls and furniture. A classic design, still popular in period properties today, with 3 lower panels and one upper rectangular panel became more popular during the 1920's and 30's
Conclusion
Edwardian residential homes vary in their overall design due to architectural influences of previous generations, however, being light, airy and beautifully proportioned with some lovely intricate touches they remain very popular today. The quality of materials used in a typical Edwardian home was generally superior to Victorian properties too.
At Salisbury Joinery, we have been supplying hand crafted joinery for more than 40 years. For more advice and examples, help with heritage joinery specification, or inspiration for any heritage project, please call our experienced team on 01722 337040.
Free Guide to Edwardian Windows and Doors
Our new guide to Edwardian windows and doors is packed with description, photos and technical drawings to help you with your next project. Why not download it for free today?