10 min read
Guide to choosing the right internal and external bespoke doors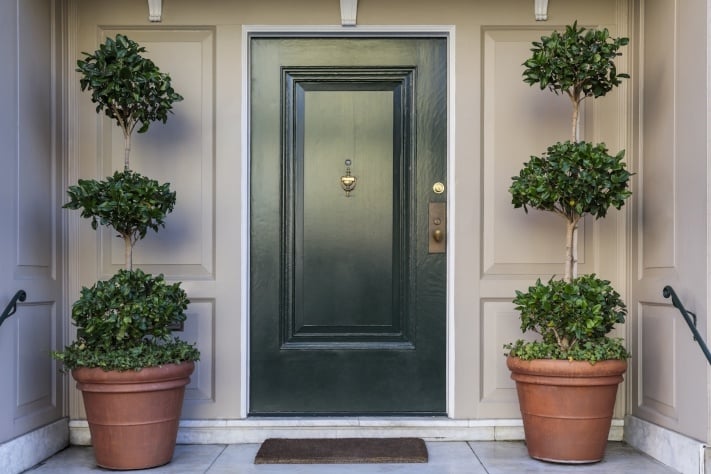 Doors have many different roles and functions to play - from security and safety, to aiding noise reduction, privacy and energy efficiency, and acting as a barrier from external elements.
They need to be fit for purpose and robust enough to withstand daily use, as well as complementing the overall look and feel of the building.
The style of doors you choose will strongly impact on the aesthetics of your property, for example by helping tie together stylistic features to aid the natural flow between living spaces. Certain styles and materials will naturally lend themselves better to certain types of interior design.
Doors can also be used to make a statement, with front doors in particular lending themselves well to the creation of a striking first impression.
Along with performance and aesthetic considerations, there are some key building regulations that may also need to be taken into account, for example fire resistance and what you need to do if you're restoring a heritage property.
To help you make the right choice, we've pulled together this detailed guide covering different types and styles of doors, along with highlighting the core matters you need to consider.
For more help on choosing the right internal and external doors, download our free Joinery Inspiration Book.
What is in this blog?
Skip to the section you are interested in by clicking the title below:
What material can doors be made of?
What is the difference between internal solid timber and hollow core doors?
Different door styles
In their most primitive form, doors would simply have been a barrier, commonly made of wood, animal hide or textiles. The earliest records of doors in use date back to 2000 years B.C. and ancient Egypt, where they were made purely of stone and used to seal the entrances to tombs.
As the centuries past, more elaborate and robust designs started to emerge, particularly during the Georgian and Victorian periods. They also became far more sophisticated, with the addition of locks and hardware.
For modern buyers, there are now endless choices when it comes to style, material and size. Then there is the choice of custom-made or standard doors, which is a question of quality or budget. Here's a run through of some of the more popular options:
Types of internal doors
The two styles of door most commonly used within domestic properties, are panelled and flush.
What are panelled doors?
This style of door is made using a frame, within which a number of panels are captured (usually 4 or 6 panels, see gallery below). They are commonly used within heritage or listed buildings, where doors need to complement the existing building and meet planning guidelines. For period buildings, they offer a traditional look and feel, while benefiting from modern fire resistance, efficiency and acoustic capabilities.
What are flush doors?
Flush doors have a more modern feel about them. Their surface is completely smooth on both ideas and they can be used to create simple, elegant lines. Again, modern doors offer high levels of security, fire resistance, efficiency and acoustic performance. Flush doors are particularly good for internal, everyday use.
What are boarded doors?
Boarded doors are one of the most simple door designs and are generally constructed of boards in horizontal or vertical boarded styles. Boarded door styles are predominantly used for external doors and are particularly suitable for rustic building designs and cottages.
Here are some examples:
Six panel doors – One of the most popular styles around, a six panel door suits a wide variety of uses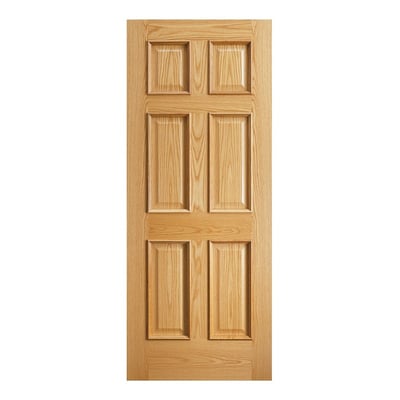 Four panel doors – Very similar to their six panel counterparts, except for having four distinct panelled areas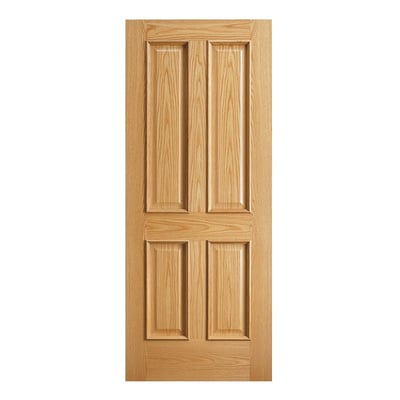 Flush doors – In contrast to panel doors, flush doors are completely smooth and tend to offer a more modern feel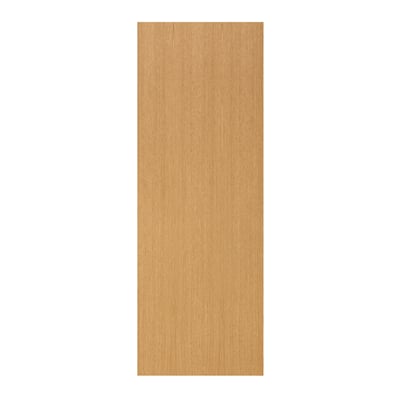 V-groove – This style of door has v-shaped ridges running down it at set intervals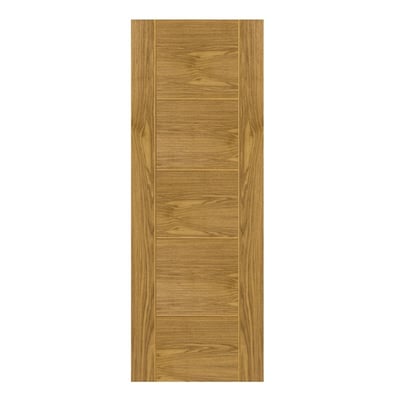 Beaded – Rather than being a single v-shape ridge, beaded doors feature pairs of ridges set close to each other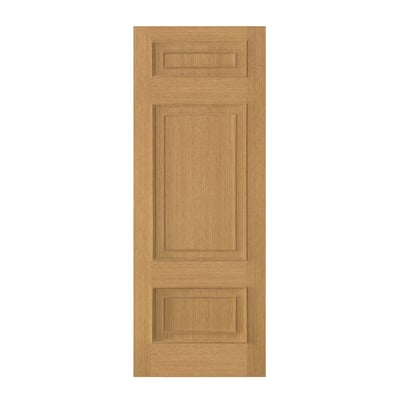 Boarded – This style door is composed of vertical boards, or the appearance of boards in modern versions. They are particularly suited to cottage appearance properties

Types of external doors
External doors have a crucial role to play. They are one of the main barriers between a property and the elements, as well as needing to keep it secure. There are various types of external door that a property may need. Many will be available in unglazed, part glazed or fully glazed options: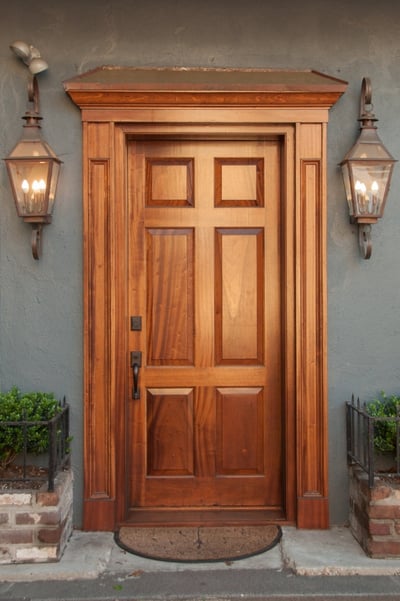 Double doors - such as external French doors to living spaces or bedrooms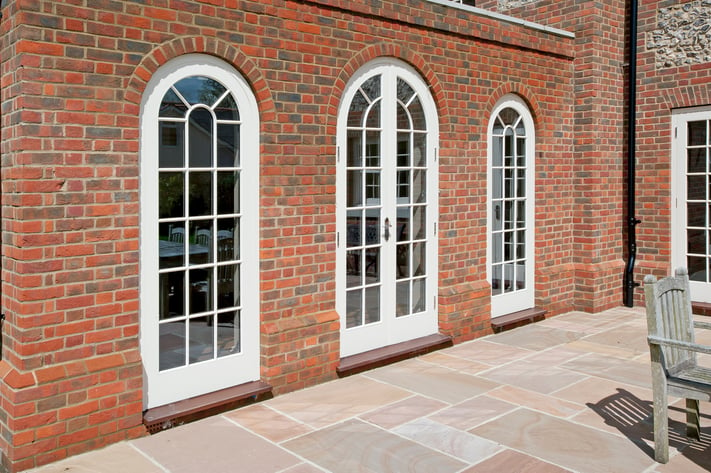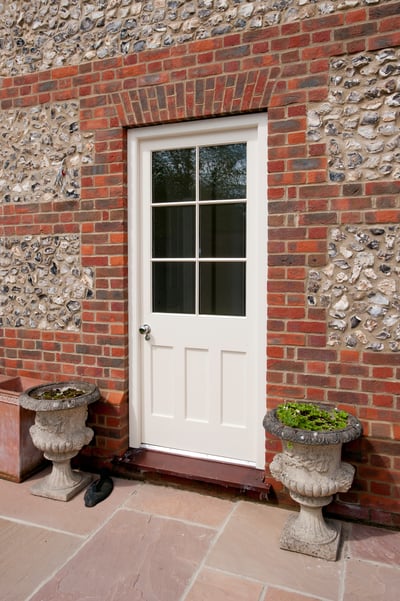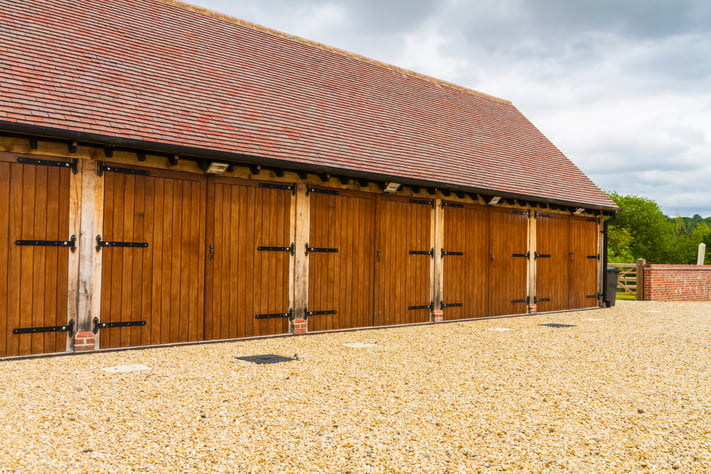 What material can doors be made from?
Choosing the right timber is important, as each species has its own colour, character, density, durability and performance properties. This will affect its suitability for particular applications.
Different tree species are broadly divided into two main groups – softwoods and hardwoods. Many species within each of these categories are suitable for both internal and external doors, as well as other joinery.
Popular choices include:
| | |
| --- | --- |
| | |
| Douglas Fir (internal doors) | |
| Accoya (both applications) | |
| Sapele (both applications) | |
| European Oak (both applications) | |
For a full and detailed overview, please see: What timbers can be used for joinery?
What is Accoya timber?
Accoya timber is the world's leading long life wood. It is timber that has been modified via a process called 'acetylation', which increases its durability, enabling it to resist rot, defy the elements and stay strong and resilient for decades to come. All without affecting its natural appearance. For internal and exterior doors, Accoya offers outstanding durability, meaning it is long lasting and also easy to machine, sand and paint.
Due to its performance, look and environmental credentials, at Salisbury Joinery we highly recommend the use of Accoya wood for doors and windows. For more details, see: Why should you use accoya wood for windows and doors?
What is the difference between internal solid timber and hollow core doors?
One choice you have to make is whether to go for solid timber or hollow core doors. As the name suggests, a solid timber door is constructed from solid pieces of timber. A hollow core door will be constructed from a timber frame with a hollow middle, usually consisting of construction paper or cellular cardboard. As an improvement on hollow core doors, semi-solid, solid and fire-rated types are now available using the same construction methods. Veneers and finishes are then added to replicate the style of solid timber doors.
Solid timber doors offer good all-round performance. This includes their insulation capabilities, noise reduction qualities and their ability to withstand attack, such as from would-be criminals.
Hollow timber doors, in contrast, are far lighter and will be cheaper to purchase, but this will be reflected in their overall performance, strength and life expectancy.
Find out more about materials, installation and technical specification in our Product Range Guide .
Building regulations
There are several building regulations that apply to doors being used within both new and existing buildings, including Approved Document B – Fire Safety.
The requirements specify how and where fire doors must be used. For example, if a home is above two levels, then every door leading to the stairwell (on any of the levels) must be a fire door, where the door leads to a habitable room (so excluding any bathrooms and toilets).
Fire doors are also required for loft conversions, between the property and an integral garage, and between the business and residential elements within a mixed-use building.
Depending on the age and type of property in question, you may also be limited by building regulations associated with restoration. So, always check what restrictions you are working within, before you make your purchase.
More information about building regulations and bespoke joinery here.
5 top tips when buying doors
Consider buying a door set. For external doors this would mean you buy a door and frame, while for internal doors this would be a door and the accompanying lining (the part that sits within the wall opening, into which the door directly sits).
Be careful and always double check your measurements, to ensure they are correct (here at Salisbury Joinery we offer a surveying service, giving you extra peace of mind)
Make sure doors are installed correctly (we've put together a handy guide for builders and carpenters, you can download it here)
Make sure doors are treated and finished correctly within 48 hour of being on site to prevent damage and/or distortion
Don't forget to consider which way each door is going to open, as part of your planning
For more advice or information on choosing internal and external bespoke doors for your property, please call our expert team on 01722 337040, or download Product Range Guide for full details about our extensive range of bespoke windows and doors.