4 min read
Why should you use Accoya wood for windows and doors?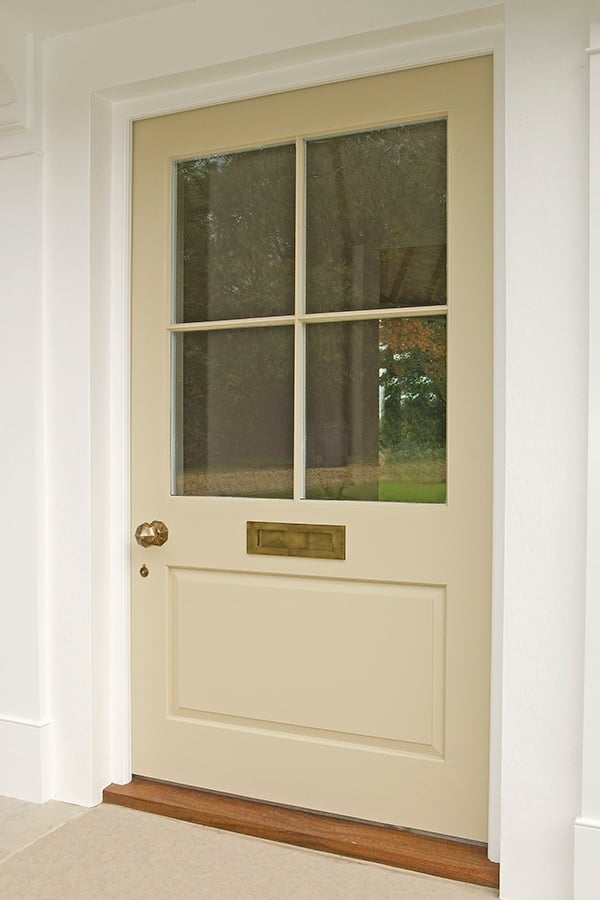 There are many decisions that need to be made when it comes to developing a residential property. From structural and architectural considerations, to key design features and which materials will be used.
Wood remains a popular choice, thanks to its versatility, the attractiveness and uniqueness of each piece, and the fact it is generated from a natural source. From traditional sash windows to grand entrances, striking staircases, and crisp modern designs, it's had a presence in construction for millennia.
But strong aesthetics alone is not enough - especially when it comes to doors and windows. Any material used needs to be highly robust, long lasting and durable. Whether it's external windows and doors that need to withstand the elements while blocking sound and conserving heat, or internal fixtures that face high daily usage, it is the quality of the wood that counts.
Issues surrounding sustainability and other environmental issues are also important to consider and opting for a product that is harvested and produced in an environmentally-sound way remains a top concern for many developers.
Accoya is a type of timber we use here at Salisbury Joinery, for exactly these reasons. It's natural characteristics and charm, along with strength and durability, have seen it has taken pride of place in many client projects – from the rural to the urban, and from traditional conservation projects to modern new builds.
What is Accoya wood?
Accoya timber is the world's leading long life wood. It is timber that has been modified via a process called 'acetylation', which increases its durability, enabling it to resist rot, defy the elements and stay strong and resilient for decades to come. All without effecting its natural appearance.
The treated wood is thoroughly tested for dimensional stability, durability, paint retention and in-ground conditions, ensuring it achieves the optimal performance. The result is wood that can be used on land or in water and for a wide variety of applications, coming with a 50-year guarantee above ground and 25 years in ground or freshwater.
From a sustainability perspective, while other types of durable woods tend to be slower growing species, Accoya is made using fast growing, sustainably forested radiata pine.
8 key benefits of using Accoya for windows and doors
For internal and exterior doors, Accoya offers outstanding durability, meaning it is long lasting and also easy to machine, sand and paint.
When it comes to windows, its incredible dimensional stability means it will not swell or contract with temperature and humidity changes.
Here's what you need to know:
For most materials, the temperature and humidity they face will be critical factors. In the case of wood, swelling in damp or wet conditions and shrinkage in dry, hot conditions can have unwelcome implications: windows and doors may jam, let in drafts, warp or even split. This can lead to the need for more frequent maintenance and structures can become unstable.
Dimensional stability is the degree to which a material maintains its original dimensions when subjected to environmental changes. With Accoya, swelling and shrinkage is reduced by 75% or more, which means doors and windows will open effortlessly all year round.
Accoya offers the best level of durability possible in wood. Lasting 50 years above ground, and 25 years in ground or freshwater, it has Class 1 durability. This surpasses even teak. It forms an effective barrier to insect attack, being indigestible to microorganisms and insects and therefore more durable to wood-destroying fungi, and is virtually rot-proof.
The process used on the timber increases the wood's strength and hardness. Its high strength-to-weight ratio makes it suitable for even the most challenging applications.
Accoya works well with all known coatings systems. The wood is easy to coat as it requires less preparation and sanding that others timbers. Its improved stability also means coatings last up to two times longer, which reduces the need for maintenance. And the less time spent maintaining the wood, means less money being spent on coatings and the less coating used during the life time of the wood.
The modification process does not compromise the wood's natural beauty. It remains comparable in colour to the original source species, allowing for a natural look to be created in a property when desired. Alternatively, it can easily be coated in a wide range of colour finishes.
Improved thermal performance
In comparison to other commonly used hardwood and softwood species, Accoya wood offers superior thermal insulation. This provides energy saving effficiences, especially when used for external window and doors.
Accoya is sourced from FSC® and other regionally certified woods, meaning it is a naturally renewable material. Only abundantly available, fast growing source species, such as Radiata pine, are used in its creation.
Accoya wood provides compelling environmental advantages over slow-growing hardwoods, woods treated with toxic chemicals and non-renewable carbon intensive materials such as plastics, metals and concrete.
The manufacturing process is also non-toxic and adds nothing to the wood that does not already naturally occur in it. It protects the environment from the harmful effects of common treatments and may be safely reused, recycled and incinerated.
Boasting not just a lower carbon footprint, Accoya wooden windows and doors actually help remove CO2 over their life cycle.
Accoya in action
View our Case Studies of Salisbury Joinery work, including examples of accoya.
One examples is Henley Farm House in Berkshire, where Salisbury Joinery manufactured in Accoya timber sash windows, external doors and frames. The joinery was designed for the conservation area the residence is situated in, and was finely spray finished. The sash windows had Georgian bar sashes with Ovolo mould, and the doors were part glazed panelled doors.
Learn more
Peace of mind is essential when purchasing long lasting products. At Salisbury Joinery, we have been supplying hand crafted joinery for over 40 years. Our products are CE Marked, which conforms to BS EN 1435-1:2006 + A1:2010 and they are supported by our own product warranty. We also offer a range of Part Q approved window and door sets.
Talk to us for more information about Accoya wood and how we can help you. Call the team on 01722 337040, or download our specification guide for more details about our extensive range of bespoke windows and doors.
Also visit the Accoya website: https://www.accoya.com/