6 min read
What is the secret of choosing a residential staircase design?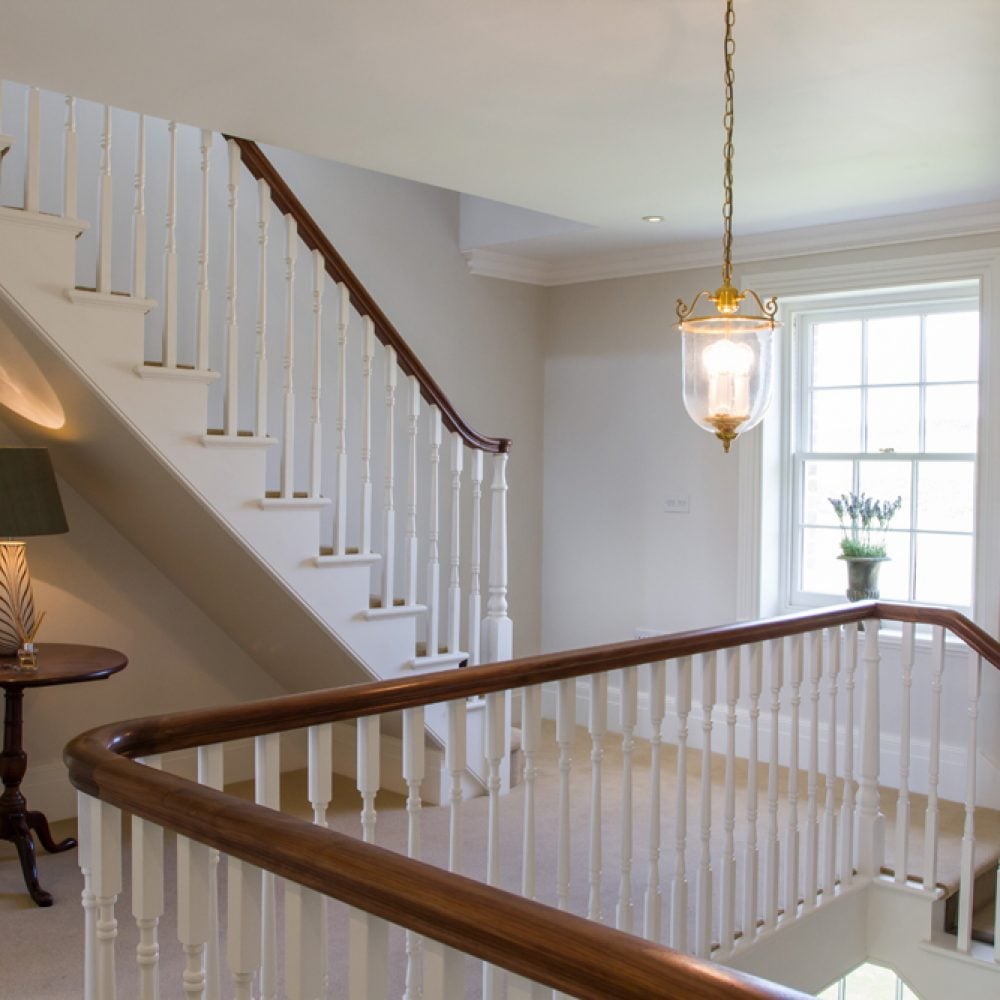 Far from being simply a way to transition between different areas in a residential property, a staircase can be a statement feature that provides the 'wow' factor.
In many prime residences and larger traditional properties, a grand timber staircase will be a major selling point. But a statement staircase can equally be found within modern and contemporary spaces, where the use of more unusual materials and unique designs is popular.
Most properties will include at least one form of internal staircase. Some will be prominent, acting as the main route to other levels and often being positioned centrally, opposite the dwelling's main entrance – aiding that all important first impression. Others will play a predominantly functional role, for example being used to access a basement or loft area.
And while the basic design of any staircase will be the same, when it comes to choosing the type that will be most suited for your property, there are limitless possibilities. They can be dramatic, elegant, impactful, quirky and even multi-functional, with materials and designs to suit any period or style.
The most important thing is to ensure that any staircase you opt for, complies fully with of all relevant building regulations, as well as complementing the property's overall look and feel.
History of the staircase
Stairs are one of the oldest architectural features around and their evolution can be traced from simple steps being whittled into rock faces and used primarily to aid survival, through to carved stone staircases and the intricately designed wooden or metal constructions we see today.
Among the world's most famous and iconic staircases are the winding steps of The Vatican in Rome, the grand staircase at Buckingham Palace and the spiral staircase found in St Paul's Cathedral.
Different styles of staircases
At a domestic level, the top trends in residential staircase design today, include:
Open – whereby you can see through and between each step, and/or side profile each tread and riser can be seen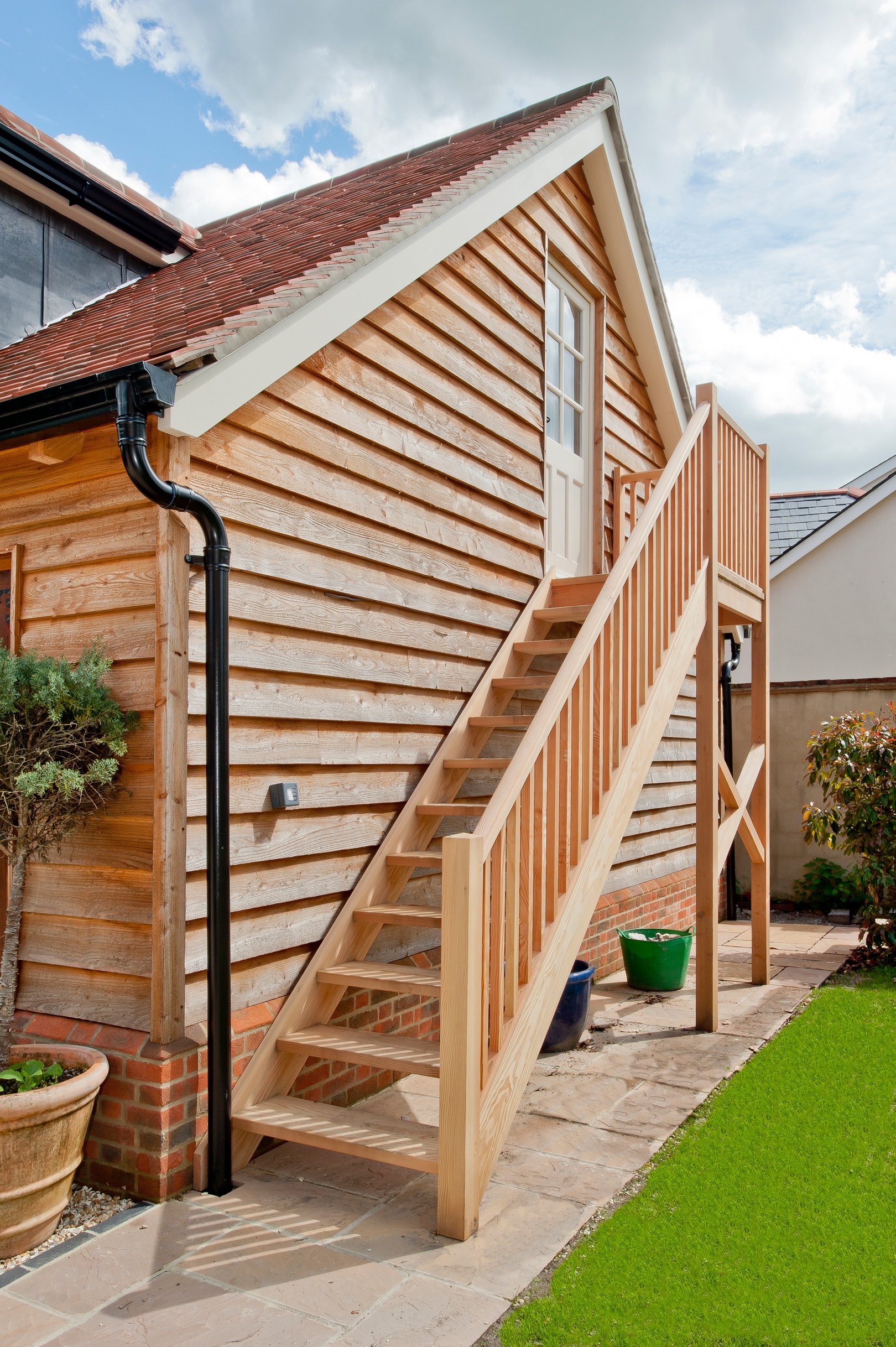 Closed – where the treads and risers are hidden by the stair strings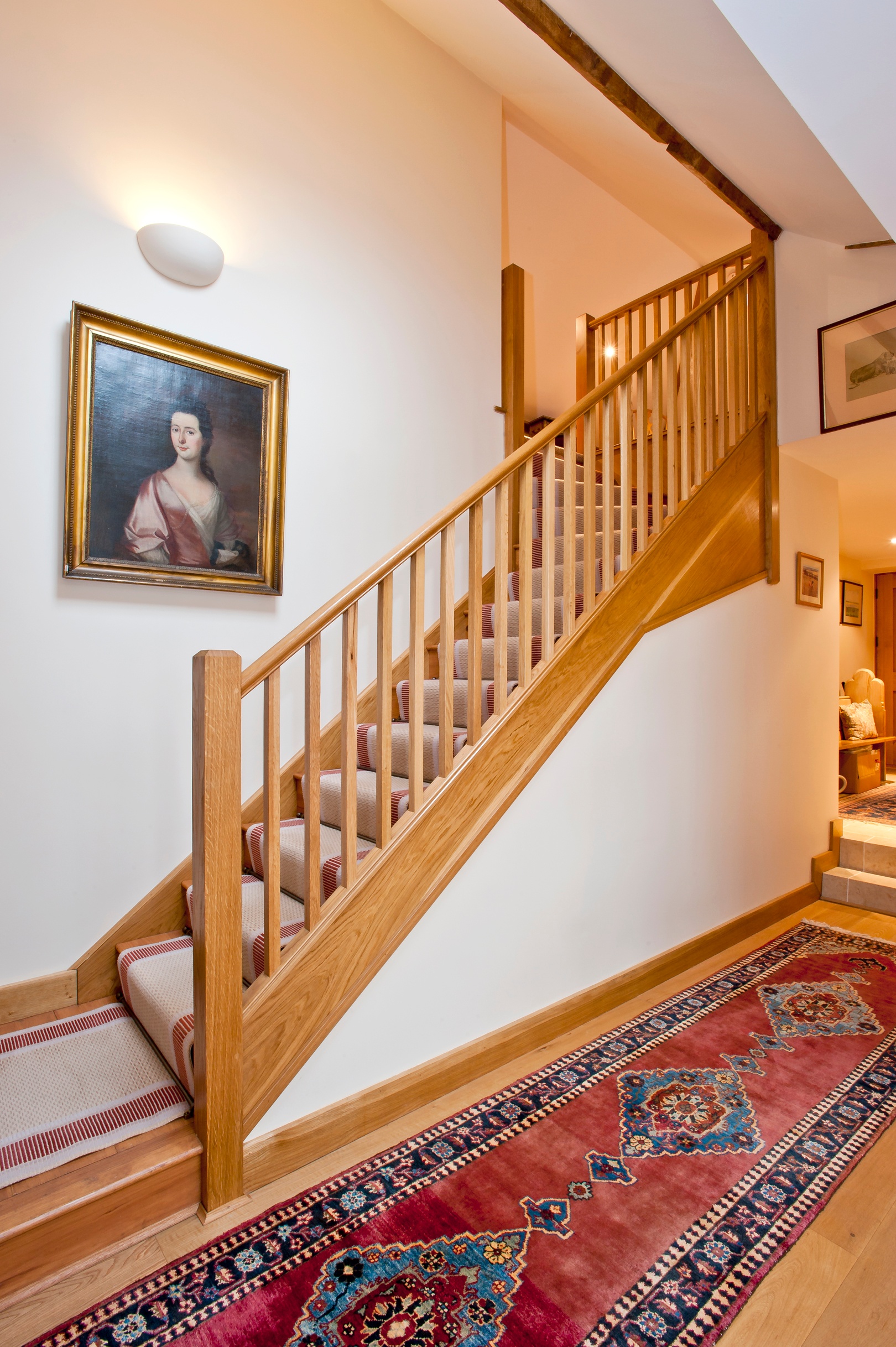 Straight – these stairs will go straight up from one floor to the next, without any turns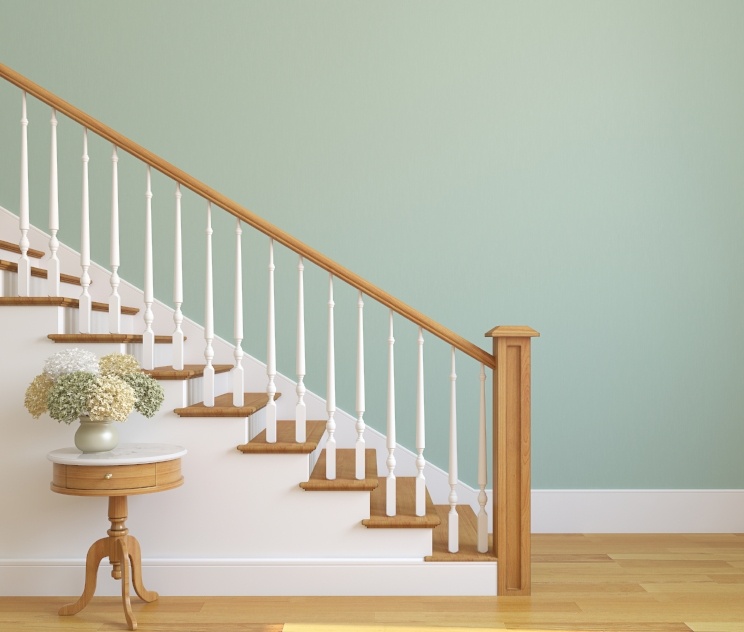 Curved – a gently curving design that offers a softer way to transition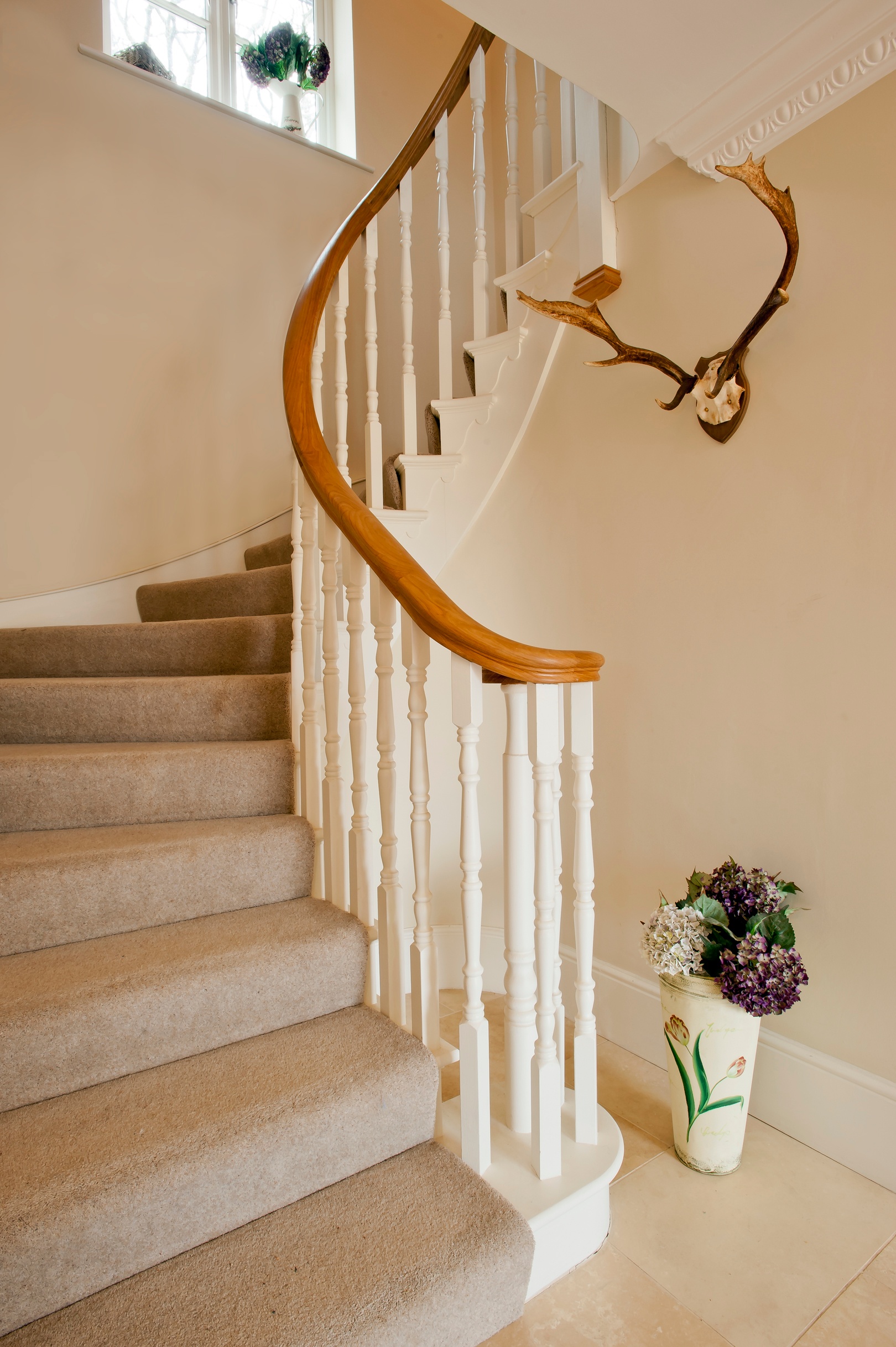 L-shaped – these staircases will feature either a landing midway or angled treads, creating an L-shape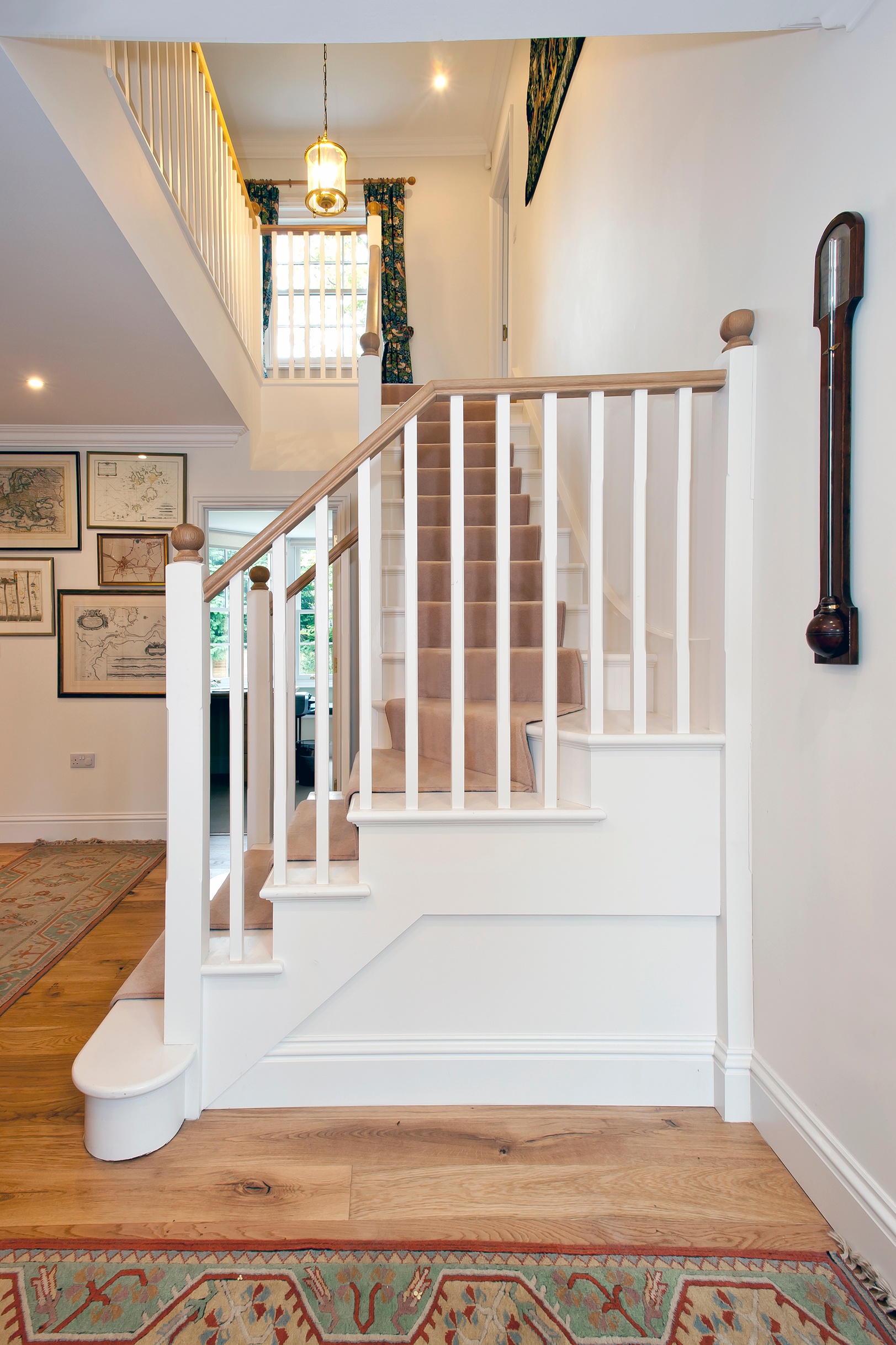 U-shaped or dog-legged – this style of staircase comes completely back on itself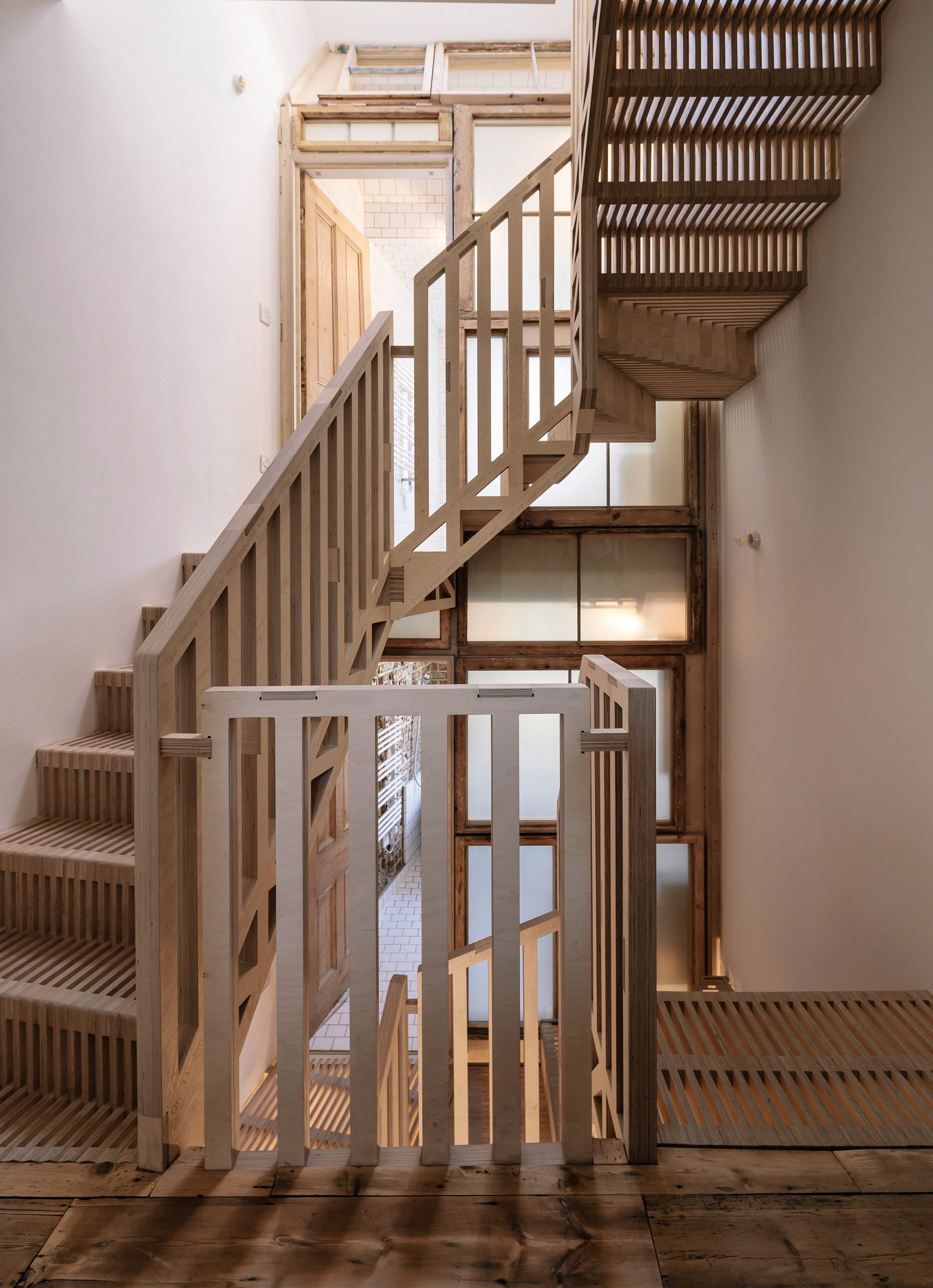 Modern – from floating steps to combining old and new materials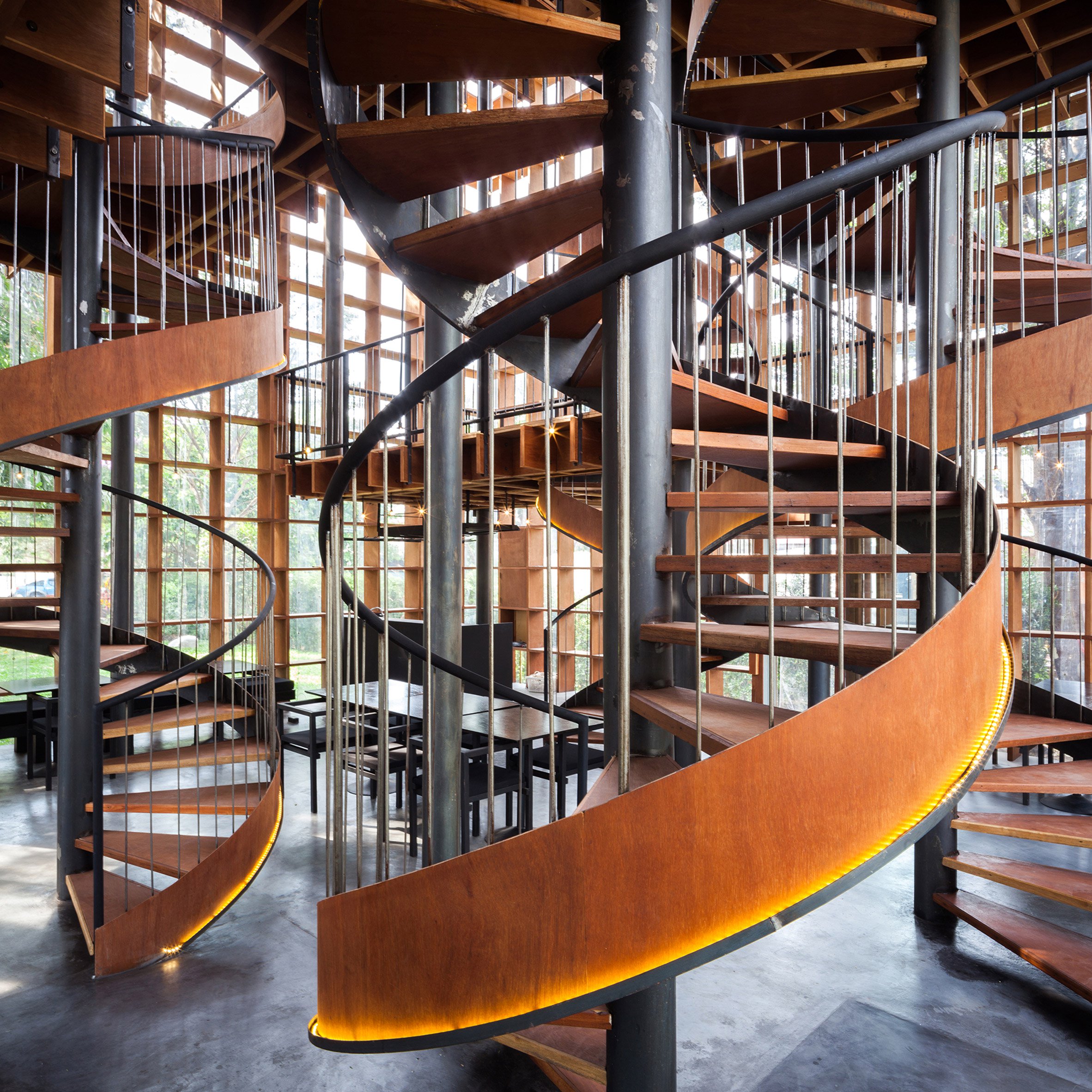 Key features of a staircase
There are many terms used in relation to a staircase and its respective components. For a full and detailed guide, please see our blog: 'Parts of a staircase explained'.
Here is a quick guide to some of the most common terminology:
Newels – This is the name of the large post found at the bottom and top of any flight of stairs. They are also sometimes used at key junctures, for example where there is a change of direction.
Spindles/balusters – This is the term used to describe the small posts which can be placed vertically along the side of a staircase, enclosing it.
Handrail - The handrail is what sits on top of the balusters and runs the length of the staircase between the newel posts.
Tread - A stair tread is the horizontal part of a step that a person stands on. The size of stair treads forms part of the building regulations.
Nosing - Stair nosing is the front of the tread that overhangs the riser; and is legally required in all domestic circumstances.
Rise – The rise or stair riser is the vertical space between one step and another.
Timber suitable for stairs
While there are no limits when it comes to the choice of different materials that may be used to create a staircase, wood remains the most popular and commonly used. Different timbers can be selected for a different look and feel, along with the use of a variety of finishes. All of which mean there is a solution for every type and style of property.
The choice of wood and finish used will be influenced by another key decision – whether the finished stairs are going to be bare, carpeted, or will feature a carpet runner.
For example, you may opt for oak lacquered treads, with painted MDF risers. Or if you plan to use carpet, then a softwood or MDF treads and risers, with Oak strings, would be a great choice.
Example timbers and finishes:
Oak
Softwood
Tulip
MDF
Lacquered
Painted
Other key considerations
When thinking about a staircase, it isn't just the materials and design that needs to be considered.
Positioning of the staircase
Where are you going to put your staircase? There are pros and cons for all options, including placing it centrally, or against an external wall. If you are following the rules of Feng Shui then there are even more elements to consider here. The best advice is to consider the overall flow of the property, as well as making sure you meet all regulatory requirements (which we'll cover next) and maximise potential usage. For example, under stair areas can be fantastic for storage or even more ambitious uses.
Lighting
How your light your staircase is important for both safety and aesthetics. There are again many creative options you might consider, from tread lights to uplighters and wall lights. You may also opt for a range of colours or even the use of lighting effects to make a real statement.
Building regulations and safety of stairs
The UK also has some of the strictest building rules around and when it comes to stairs, the relevant regulation is Approved Document K.
The regulation is primarily concerned with safety and preventing falls, but also ties to guidance on fire safety, mobility and access. Approved Document K covers many elements of the design of a staircase, including headroom, handrails, landings and the width and steepness of individual steps
To comply with the regulation, the minimum going should be 220mm, whilst the pitch of the staircase should not exceed 42°. There is no restriction on width but standard flights generally measure around 860mm. For secondary staircases, such as down to a basement, a minimum width of 600mm is recommended.
All risers need to be the same size. The only exception would be when a landing separates two sets of flights. In this case, the two flights can have different rises compared to each other.
Loft conversions
There is specific guidance for staircases used as access for loft conversions, particularly in relation to their design and positioning. For example, the stairs must land where there is at least 1.9m of headroom (and 1.8m at the sides).
Bespoke projects
At Salisbury Joinery, we have been supplying hand crafted joinery for over 40 years. Our products are CE Marked, which conforms to BS EN 1435-1:2006 + A1:2010 and they are supported by our own product warranty.
We manufacture staircases from a wide range of quality timbers, from softwood and MR MDF to premium materials such as Oak or Ash. We can turn newels, spindles and newels caps to virtually any design to create your desired balustrade, or alternatively we can offer a glass balustrade for a contemporary look. A continuous handrail is another popular option and is the perfect way to add character to your bespoke staircase.
For more advice and examples, help with specification, or inspiration for your project, please call our experienced team on 01722 337040 or request a staircase quote.